Patients are now the third largest payer, just behind Medicare and Medicaid.[1] That makes patient payments a critical part of a provider's revenue stream—up to 35% in some cases.[2] If you're a provider who continues using reactive, post-service collections practices, this new reality can do significant damage to your bottom line. What you need is a new approach and the technology to back it up.
Fortunately, industry experts MEDITECH and Encore Exchange have you covered. We have worked diligently for the past 30 years to create innovative solutions to help improve the patient financial experience. The partnership has resulted in patient-centric revenue cycle technologies and services that benefit both the provider and the patient by making it easier for patients to:
Receive communications about their bill via email, text, IVR, mail, and phone
Understand their healthcare bill
Resolve their balance conveniently
Establish pay plans that match their ability to pay
Why is this partnership so special?
It begins with our history. In the 1980s, Encore Exchange, then known as CCi, began serving several MEDITECH hospitals. With a shared desire to make the exchange of patient accounting data automated and effortless, MEDITECH collaborated with Encore Exchange to build the first and only collection interfaces with their patient accounting systems. Early in the relationship the two companies discovered they shared more than customers, but also shared values such as a focus on customer and patient experience, a belief in ownership-culture, and a genuine sense of commitment and integrity. After several decades of refinement and evolution, that collaboration continues to deliver. Hospitals on Magic, Client Server, 6.0, or Expanse, maximize their investment with MEDITECH by tapping into a partnership which goes beyond data integration. Supplementing out-of-the-box EHR solutions with new payment technologies and personalized engagement services allow today's MEDITECH hospitals to reach their patients in new and more connected ways. And a jointly designed, flexible suite of solutions scale to meet the needs of a wide range of organizations.
In short, MEDITECH trusts Encore Exchange to serve their customers with the same level of care and thoughtfulness that they do, to do the right thing, to keep the patient at the center of all decisions, and to meet today's healthcare consumer with the convenience, technology and affordability that they expect in their billing process.
Watch this video from Larry O'Toole of MEDITECH as he explains how their partnership with Encore Exchange makes a difference for hospitals and patients.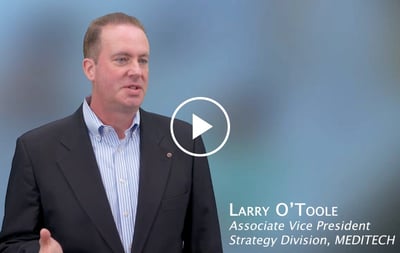 Top 15 benefits of a 30-year collaboration:
Trust: We know and trust each other well, and you can count on us both having your best interest at heart.
Focus: Exclusively working to improve the self-pay experience, MEDITECH counts on Encore Exchange as its sole billing and collections partner.
Experience: Through the course of 30 years, we've seen it all – together.
Collaboration: We know that we are great as individual companies, but together we are even better equipped to serve the needs of hospitals and their patients.
Accurate: A proven and reliable integration that leaves you worry-free.
Seamless: For our mutual clients, we use streamlined, proven processes to implement and operate.
Quick implementation: Because time is valuable, our collaborative solution drives results faster than other solutions.
Insourced: We have created robust tools and technology that require just MEDITECH, Encore Exchange, and your team to implement. No expensive consultants are needed.
#PatientFirst: Both of our organizations are committed to making the patient experience the primary purpose in everything we do.
Training: Together, both organizations have invested in training and preparing employees to be high performing, believing that an educated workforce is a better engaged workforce.
Flexibility: Not all hospitals are the same; there is no single best solution, so MEDITECH and Encore Exchange flex to meet your needs, not the other way around.
Independent: Our commitment is to you, not to Wall Street.
Quality: A difference you can see and feel – our organizations share a commitment to delivering a quality experience for hospital users and patients who interact with our technology and our teams.
Data driven: With advances in technology and analytics, there is no reason to send out standardized, impersonal communications. The MEDITECH and Encore Exchange partnership means that each patient has a personalized experience that results in more payments collected.
Growing: The more hospitals learn about us, the more they want to work with us.
Patient financial responsibility and self-pay accounts aren't going away. Providers who want to succeed in this new reality need to take a new approach. The place to begin is to implement a fully integrated payment solution. For MEDITECH users, the answer is easy. Encore Exchange has worked hand-in-hand with MEDITECH to develop an integrated solution that is designed to make it easier for patients to pay and providers to collect.